Temporary Classrooms - Making space for safe, on-campus learning
With students back on campus, but yet to get back to face-to-face teaching, universities are taking a fresh look at the campus estate.
Re-purposing non-teaching areas as temporary classrooms is one way to create the capacity needed to enable safe, socially distanced learning.
A well thought out temporary classroom, whether a transient addition of mobile equipment or a more permanent transformation, will increase capacity without compromising social distancing rules or the quality of the learning experience.
If you're looking to get back to face-to-face teaching, while keeping everyone safely socially distanced, temporary classrooms could be part of the solution.
USE CASE - Re-purposing communal spaces for teaching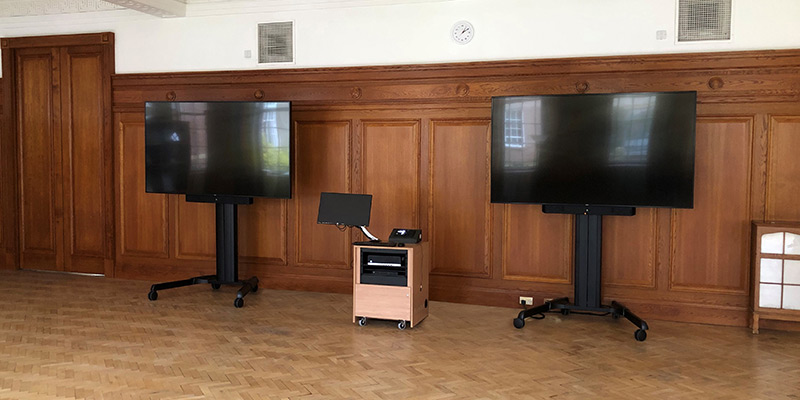 Edge Hill University transformed a former dining hall and underutilised office space into two new areas for timetabled teaching.
Wanting a simple, flexible solution that could be redeployed should usage requirements change in the future, the university selected a self-contained mobile system.
The basic set-up includes a pair of two 85" Philips displays with JBL soundbars on height adjustable mobile floor stands, allowing screens to be moved in and out of doorways as required.
The rack and in-room PC sits within a cabinet that houses an Extron controller laptop connection and a 24" monitor on a moveable arm.
The university has three sets of these solutions, currently deployed across the two new teaching areas. Within the larger dining hall, the systems can be deployed independently, allowing the space to be divided into two teaching areas or wirelessly linked via Extron eLink to output the same content across all screens.
The mobile system is a simple, low-cost solution that can be rapidly redeployed as needed. It is part of a series of measures in place to recover some of the capacity lost to social distancing requirements.
What we like about this solution: It is a simple yet effective way to temporarily re-purpose areas to create additional space for safe, socially distanced face-to-face teaching.
If you're looking for ways to temporarily adapt your campus estate to recover capacity and support the return to face-to-face teaching in a safe, socially distanced environment, contact our team by completing the form below.
Contact our experienced team to find out how we can help