How to return to work safely after lockdown [four technologies to get you back to the office]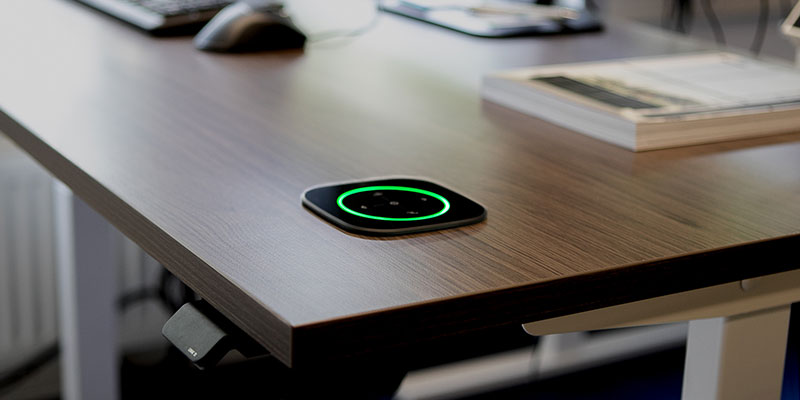 As the Government's Job Retention Scheme comes to an end, businesses are looking into the best ways to get their staff back to work.
A key focus of these discussions is how to ensure employee and visitor safety in a post-lockdown office, and one specific area is how technology can help achieve these goals.
In this post, we look at some of the technologies out there, and how they can make the transition back to the office feel natural, safe and effective.
The sheer number of solutions can make getting started a daunting experience, with many people unsure where to begin.
To try and make the decision easier for you, we would like to share with you four technologies that we believe will play an important role in the 'new normal' workplace.
Able to scale quickly, these are solutions that are ready to expand or contract as you need them - ideal when planning a phased return to the office.
Ready to find out more? Here's what we'll cover in this post.
1) Room Booking Systems
Occupancy management is a vital part of the safe return to our workspaces. The need to observe social distancing rules means that meeting rooms once intended for six may now only seat four, or a four-seat room only two.
Room booking systems provide users with a simple, yet effective way to manage these meeting rooms.
Essential information about occupancy levels, facilities and availability can be easily updated via room booking software and displayed clearly on panels outside the room.
Immediate meeting scheduling and management are possible through the panel, or if users prefer a contactless approach, directly through their room booking software on your computer or mobile.
Cleaning the panels is simple and can be achieved with anti-bacterial wipes, as often as needed.
When paired with other technologies, room booking systems can take the solution further.
The addition of room occupancy sensors makes sure that no-shows are picked up and releases the room for re-booking.
When not in use, room booking systems can be turned into vibrant digital signage displays to convey important safety messages and business communications.
The intelligent features of the included software can provide valuable insight on room usage, attendance failures, amongst other metrics to provide you with information about how your meeting room usage.
2) Digital Wayfinding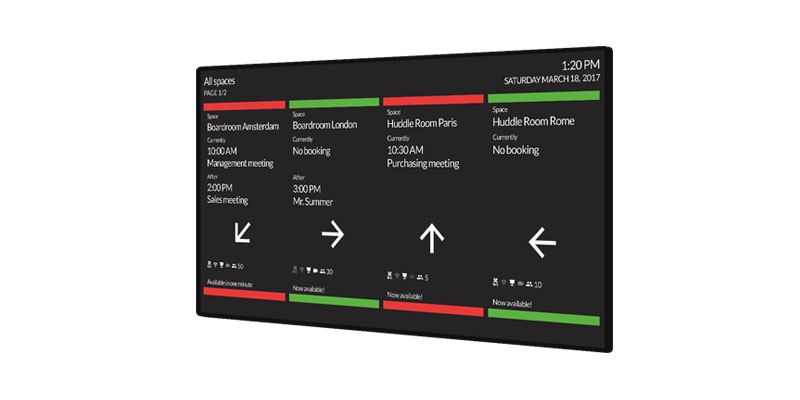 At a time when unnecessary contact and inter-office movement is restricted, digital wayfinding is an excellent way to help visitors and employees navigate the workplace.
Information can be updated and deployed instantly through the easy to manage wayfinding software, ensuring your visitors see the most up-to-date information.
Integration with other technologies, such as room booking systems and digital signage platforms makes the solution a powerful tool both now as we navigate the safe, orderly and compliant return to the workplace, and beyond.
Perfect for conference centres and shared office blocks, digital wayfinding provides an entirely touchless solution to guide your visitors to essential areas.
If you need to make room changes, digital wayfinding solutions can be updated instantly, to provide the most up-to-date information.
Stylish by design, the premium look of digital wayfinding solutions leave a lasting impression on visitor satisfaction and overall experience.
For impromptu meetings, users can quickly glance at the wayfinding displays to guide them to available rooms, eliminating confusion and ensuring you provide a safe, hassle-free experience to your visitors and guests.
3) Intelligent Hot-desking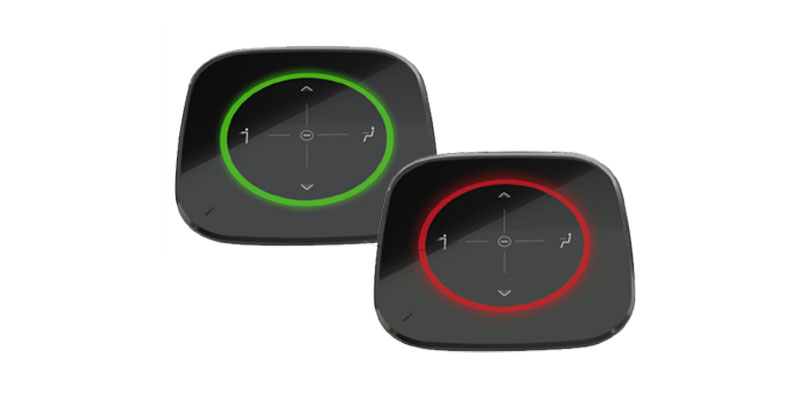 COVID-19 has led us to re-think our sense of personal space and our comfort in shared areas.
Multiple workers using the same space is just not going to be possible in the way it was before.
While working from home will relieve some of the pressures, there will still be a need for shared desk space.
Intelligent hot-desking provides staff and visitors with the reassurance that they have a safe place to sit and focus on their work, which is why it is one of the four technologies that we see supporting the return to the workplace.
It not only allows resources to be booked remotely, and instantly communicates availability, but helps organisations maintain strict hygiene protocols.
Booking a desk is quick and simple. Reserving a desk can be achieved directly through specialist desk booking software on your phone, or work calendar (integration).
Signing into your hot desk can be achieved by scanning your mobile phone, keeping contact to a minimum and promoting the touchless workplace ethos.
LED status lights provide users with insight as to whether the desk is available (green), booked (red) or requires cleaning (purple).
Before they have entered the building, workers know they have a desk available. The status of each desk is clearly visible in the physical location, and the criteria for each status is easily changeable as social distancing guidelines evolve.
4) Sign In and Visitor Management Systems
In the post-lockdown era, agile occupancy management and robust traceability hold a higher priority.
An effective visitor management system offers a great way to streamline administration, improve site security while ensuring that you are fully compliant with the latest GDPR legislation.
Pre-registration speeds up or even eliminates the traditional sign-in process as staff can check visitors in via a simple portal on their PC. The use of QR codes is an excellent option for unhosted or busy reception areas.
Returning visitors can use the facial recognition software to avoid unnecessary touching of public technology.
There are options for stand-alone systems or fully integrated solutions that extend to encompass room and desk booking and wayfinding functionality; the ability to view and book workspaces a helpful tool supporting better workplace productivity.
So, there you have it. Four of our favourite technologies to help create a safer post-lockdown workplace.
We have a number of other solutions available, so if you're looking for additional ways to adapt your business for a safe return to the office, get in touch with us and we'll be more than happy to help.
Subscribe For More
Download our PDF Guide to Returning to Work Safely