Flexible protection for your Audio Visual Installation
Upon completion of a Pure AV installation you are immediately signed up to our PureRESPONSE service package, providing you with the piece of mind that, should something happen, you will have access to the renouned Pure AV service team who will be on hand to assist.
PureRESPONSE
PureRESPONSE is designed for customers who require a call-out service on a pay as you consume basis when a full managed service package is not required. This offers a basic but effective response to reported issues with your AV estate.
Pure AV will triage the request at our service desk and deploy an engineer to the customer site to remediate this issue. Pure AV offer a number of response options to ensure we meet your business requirements, these range from 8, 16 or 24 business hours to attend site with the standard offering being 40 business hours.
Our service includes full end to end ownership of the issue including the provision of loaned spares repairs, replacement and managing manufacturer liaison.
PureSERVICE
We've seen over recent times that a number of our customers want the assurance of having their equipment fully covered and we've thought long and hard about how best to provide complete coverage despite every installation being unique. Following consultation with a number of key suppliers, customers and the introduction of a new operating model within our service department, we are proud to introduce our new service offering - PureSERVICE.

PureSERVICE maintenance packages are a fully inclusive set of service components designed to support the complexities of managing an AV estate for our customers. These include the service desk function, to our service engineers through to full account management.

We specialise in ensuring that your investment is protected to prolong the effectiveness of AV solutions thus avoiding unnecessary expense.
PureSERVICE offers bespoke preventative and reactive maintenance protection which keep your AV systems operating in the same manner as they were designed.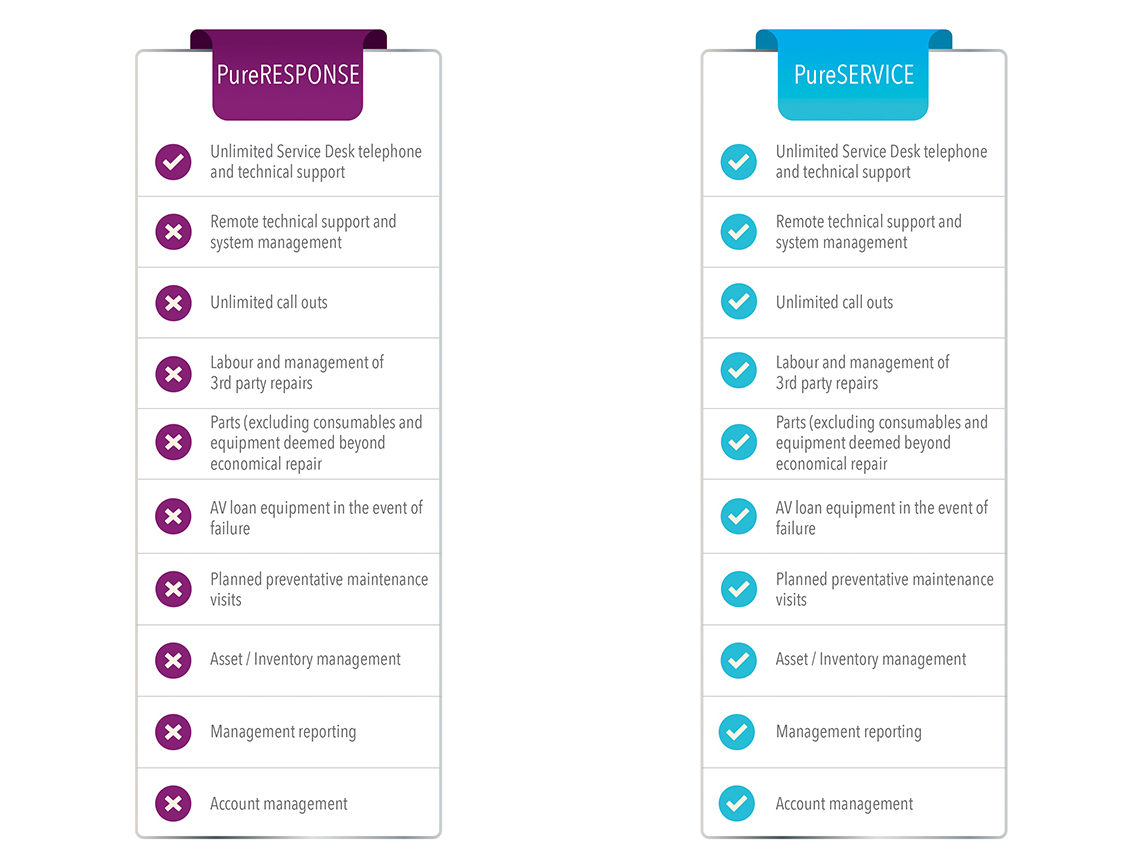 In addition to the packages outlined above we are also able to create bespoke packages. Should this be required our support coordinator will meet with you to discuss your requirements and put together a proposal designed to meet your specific needs.