Video Collaboration in Healthcare

Video Collaboration is bringing significant gains in efficiency and productivity to the healthcare sector. Already widely used in the commercial sector, it is a tool that will help the NHS to save time and tackle unnecessary spending and travel.
By adopting effective video collaboration, the healthcare sector profits from the same benefits already experienced in the commercial sector. And by selecting the right solution can do so in a way that is secure, reliable and easy to use.
Clinical video conferencing, audio conferencing, online collaboration, instant messaging and ad-hoc audio conferencing are all essential communication tools in the modern healthcare environment. The ability to move seamlessly between the different methods of contact will aid healthcare professionals in the delivery of high-quality patient care.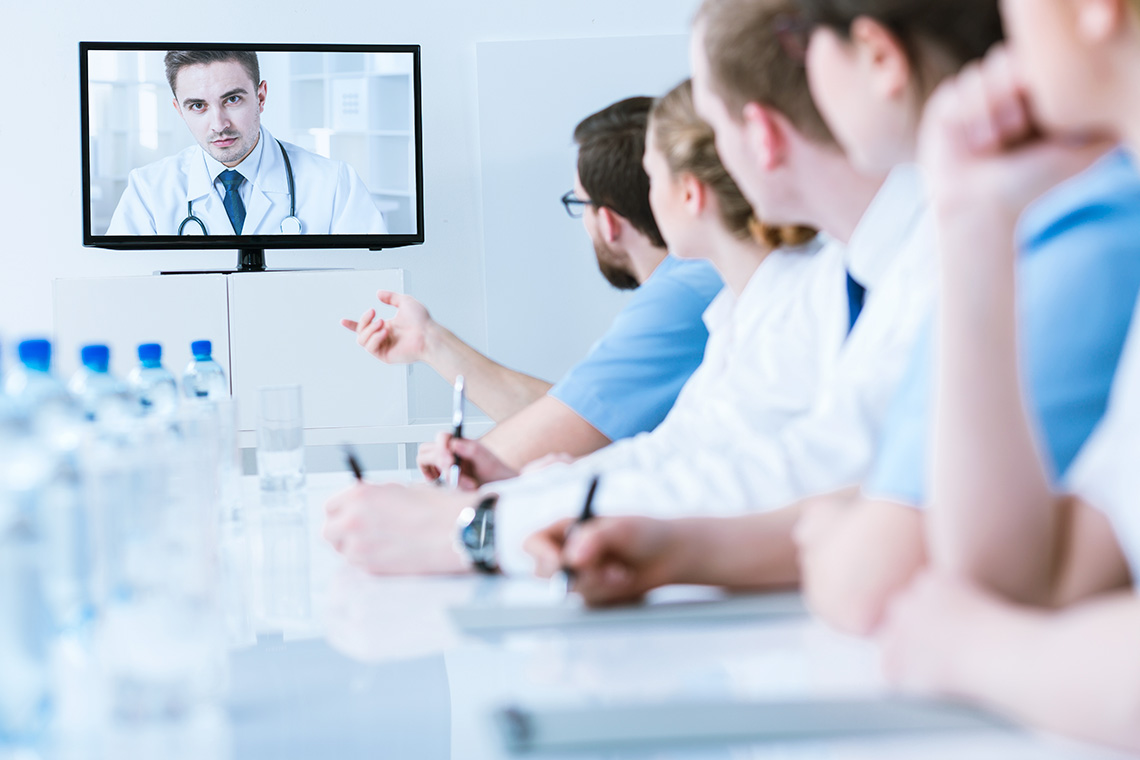 The advantages of Video Collaboration
Video collaboration and teleconference in healthcare removes geographical restrictions and opens up interactions with medical specialists online anytime and anywhere with reduced expense.
Extend the reach of your medical experts
Enable quality interaction between staff, clinicians and patients
Improve access to specialists & remote consultants
Support the delivery of integrated care
Secure ad-hoc communication
Managing the switch from N3 to HSCN
Whether your migration from N3 to HSCN has happened or is underway, consideration needs to be given to your video services. The BT N3 video services you have previously used will not work on the HSCN network. Working with our partners StarLeaf we can provide you with a secure and reliable video collaboration platform designed specifically for use on the HSCN.
Starleaf
StarLeaf has created an instance of the StarLeaf Cloud inside HSCN, specifically for NHS Trusts to use. This means that not only can existing scheduled meetings, such as MDTs, move straight across and subscribe to the new service to continue current calls; but there are also additional services available for desktop and mobile meetings and messaging.
Trusts can choose StarLeaf conference room systems or utilise their existing systems, including Microsoft Skype for Business, Cisco, Polycom, LifeSize, Avaya, Sony and others. The StarLeaf App, which comes as both desktop and mobile, can also be used to access the StarLeaf cloud. By leveraging the StarLeaf Cloud, conferencing and messaging facilities can be provided to all users without the need for investment in expensive conferencing infrastructure.
The StarLeaf platform offers the NHS a global enterprise-grade voice, video, meetings and messaging platform that can connect to anyone, anywhere with any device.

Pure AV in Healthcare
Our solutions are designed to offer a high level of interoperability, to be secure, scalable and reliable. They are designed to help healthcare professionals improve communication, maximise resources and achieve successful, cost-effective collaboration.
Over the past 15 years, we have worked with many Trusts to create or upgrade facilities to provide reliable, simple to use resources that support NHS staff in the delivery of patient care.
Ready to discover more? Contact us to talk about video collaboration on HSCN or to arrange a free demonstration.
Get in touch