Audio visual solutions for collaboration and huddle spaces
Success in the modern workplace happens when our brightest and best come together to communicate and collaborate on projects and tasks.
Collaborate anywhere
Our work activity is no longer limited to the traditional office environment; today, we operate from our homes, cafe areas, in relaxed lounge spaces and huddle pods, through to larger formal meeting spaces and town hall-style presentation spaces. It's an expansion driving demand for simple-to-use communications tools that enhance team working and bring remote workers together.
The places we collaborate are equally diverse, extending from our desktops using Teams, Zoom, StarLeaf etc., to ad-hoc informal areas, to larger formal meeting spaces and dedicated, specialised rooms for design, ideation or training.
Keep it simple
Ultimately, when moving from individual to collaborative work, the key is removing barriers to contribution, which at its most basic level is giving people the tools to see, hear and be heard. As the depth of collaboration increases, the ability to connect, share and interact with content becomes more significant. In any scenario, keeping things simple is critical.
Bring your experts together
Collaboration means different things to different people, which is why our experts take time to understand what it means to you and your teams before creating a solution to match. We use concept rooms as a tool to help refine your specification. Allowing staff to trial the system ahead of a full roll-out will often reveal new ideas, eliminate features that don't add value and help stimulate adoption when it comes to the onboarding process.
Through our range of audio visual technologies, communication platforms, furniture solutions and design expertise, we can enable successful collaboration, whatever its form, and make working together the most productive part of your day.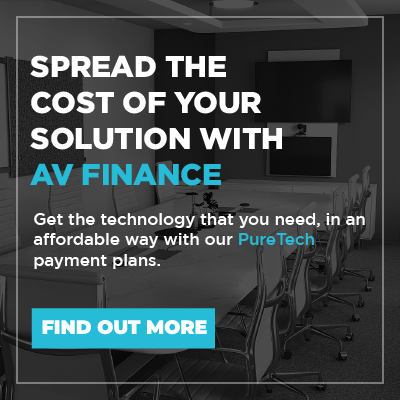 Collaboration Environments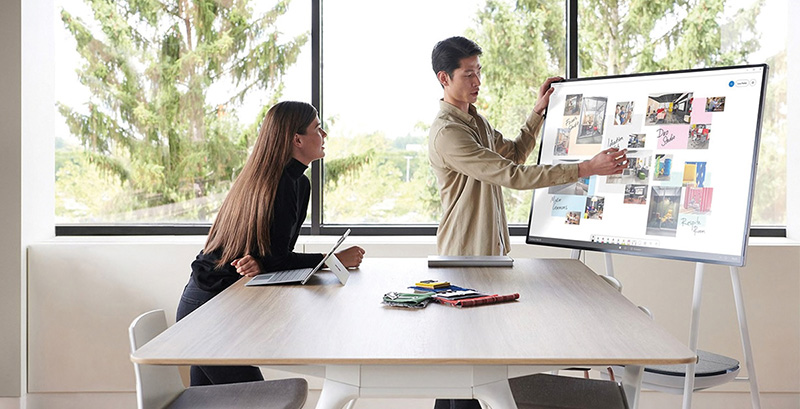 Huddle Spaces & Ad hoc collaboration
A place to step away from the busy office environment to somewhere for small groups to discuss, debate, share ideas, and review presentations.
These compact, economical spaces are perfect for video and audio conferencing as well as more informal, unscheduled meetings.
Designed to support quick start and close meetings, they make use of large screens, familiar communication platforms and enable the seamless transition from individual to small group working.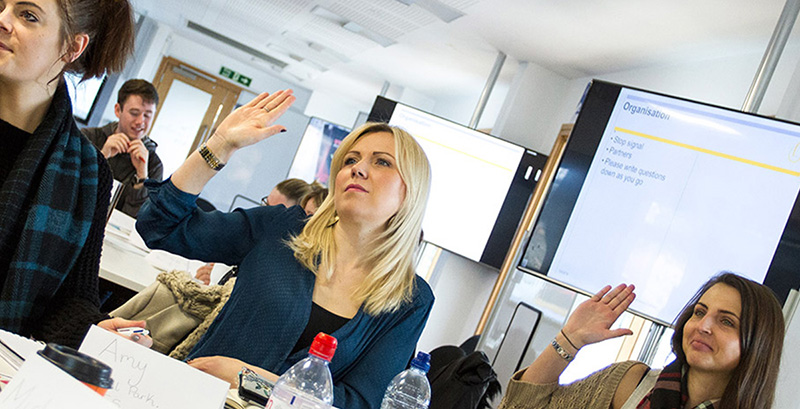 Large-group collaboration
Successfully deployed across the higher-education sector, large-group collaboration rooms offer maximum opportunity for participation and active learning.
The combination of large displays, wireless connectivity and simple content distribution enables the seamless transition between independent group work and full-class teaching.
We will work with you to determine the optimum layout for your space and build a solution that is scalable, intuitive and engages your students.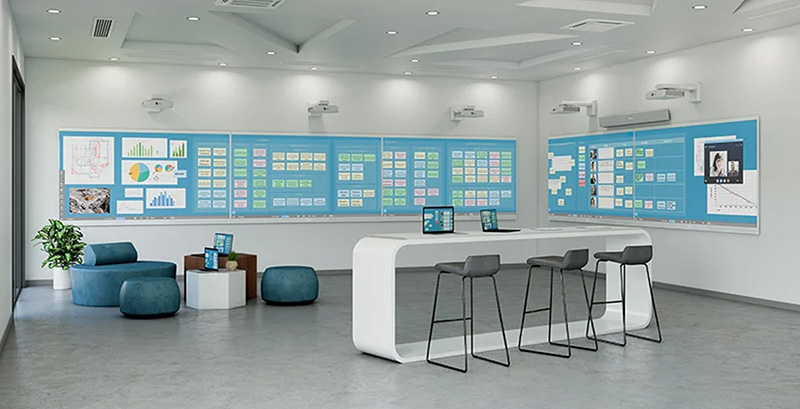 In-depth collaboration
For projects that require in-depth collaboration and workflow visualisation, we have solutions that offer large-scale digital canvases for activity across in-room, online, asynchronous and synchronous workflows.
When dispersed teams require more than a video call and shared screen, keep them aligned and projects on track with the ability to visualise workflows, add essential information, hyperlinks and more.
Enable everyone, in any location to work together with no barriers. Almost as if they are in the same room.
Popular collaboration space technologies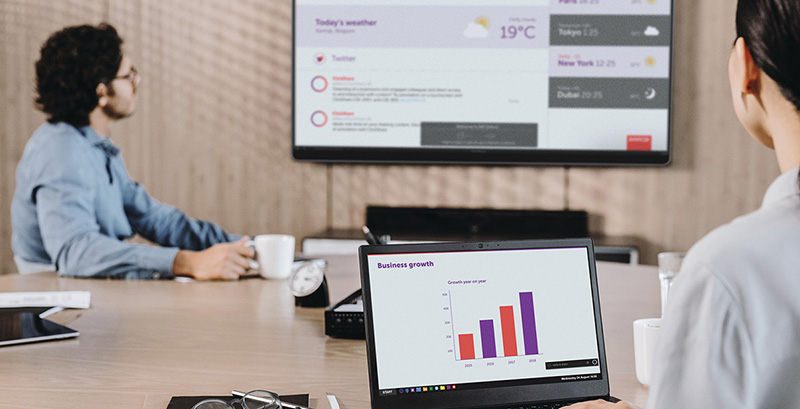 Wireless Presentation
Ensure quick, intuitive and secure content sharing for your meeting spaces, with our quick to deploy range of wireless solutions.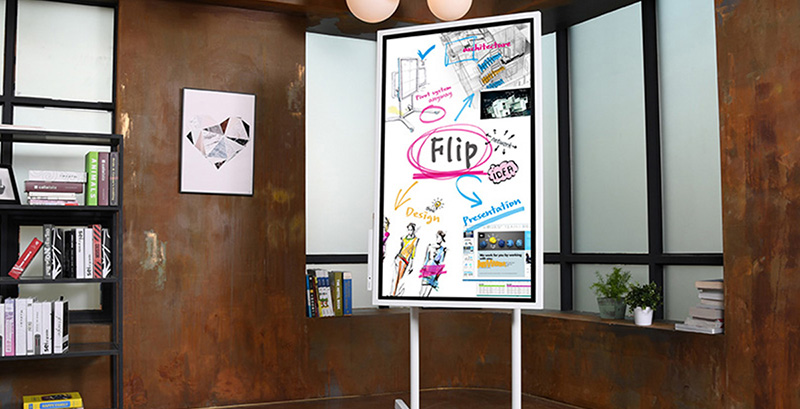 Digital Whiteboards
Display, create and save your collaboration work for immediate distribution with our range of interactive whiteboards.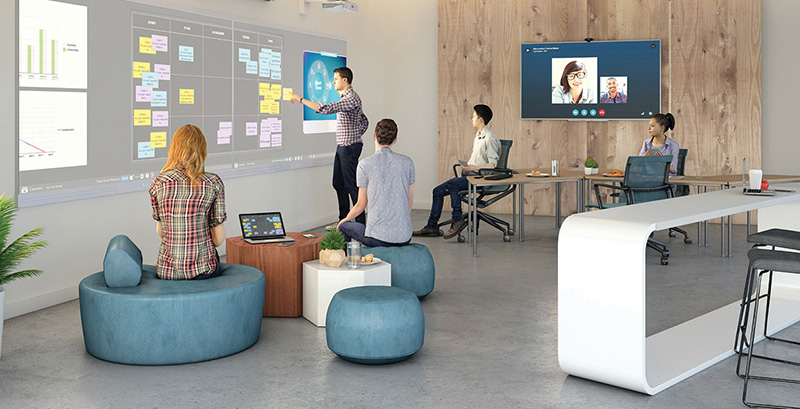 Collaboration Platforms
Productivity happens when hardware & collaboration platforms combine. Teams, Zoom, or otherwise. We make interaction seamless.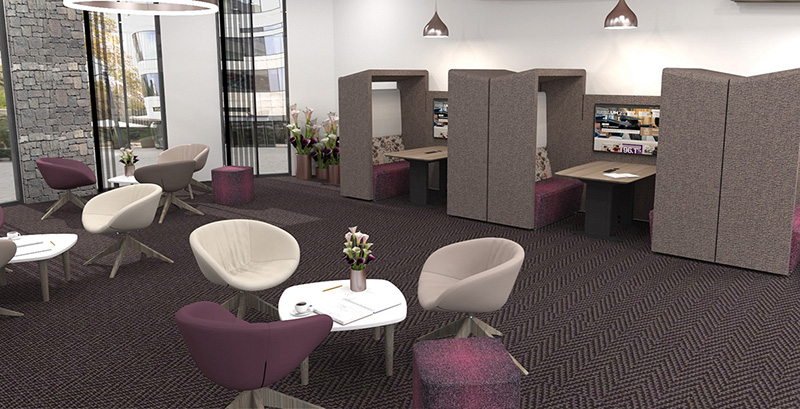 Collaborative Furniture
The right furniture will influence the way teams work together. Combine integrated AV with comfort and style for maximum productivity.
Audio visual systems for collaboration and huddle spaces
Huddle rooms are a great way to conduct informal or small-scale meetings in person or via video.
Simple to set up and manage, huddle rooms offer an effective way to increase the amount of meeting spaces available to an organisation.
Our experienced team of designers, programmers and engineers integrate the best audio visual tools with your preferred communication platforms, whether that be Microsoft Teams, Zoom, StarLeaf or otherwise.
This ensures that your teams can discuss, debate, present and share ideas with familiar technology, in an environment that encourages productive collaboration.
Experts in AV solutions for collaboration
Pure AV's team of AV and Collaboration experts have access to the best technologies available to provide you with a choice of collaboration spaces perfectly designed to meet the demands of the modern workplace.
Tailored to suit the exact requirements of your organisation, we will work closely with you to ensure you receive the optimum solution for your needs.
If you're looking to create the perfect collaboration space but don't know where to start, we can help. Click on the image on the leftabove for just one example of a huddle room set up already helping our customers achieve successful small group collaboration. For more information,
please contact our experts who will be more than happy to help.
Case studies featuring collaboration spaces
Let's talk about your project