Creating new space on campus for digital delivery and virtual learning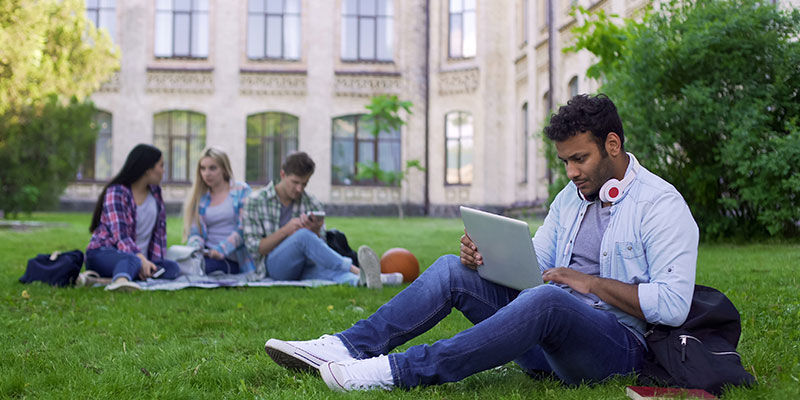 In this post, we look at the growing role of distance learning in higher education and the new spaces universities are creating to support it.
Contrary to some media reports, demand for higher education is still there. In fact, UCAS recently published news of a rise in students planning to start university in 2020. Great news!
However, Covid has not gone away and universities must ensure safety comes first.
As universities start to re-open, the need to maintain social distance will impact the number of people able to be on-site and within buildings safely.
Enter, blended learning and the use of technology to combine in-class and out-of-class learning.
According to Google Trends – the topic of 'distance learning' increased in popularity at the start of lockdown (which equated to over 10,000 UK searches per month at the peak).
Before lockdown, early adopters of the latest digital learning technology were already exploring online delivery as part of flipped classrooms, and active learning approaches, now the application is much more widespread.
To successfully deliver online courses requires high-quality learning content provided via an accessible, reliable and engaging platform.
Below we look at two examples of the technology and new spaces universities are deploying to ensure the successful application of distance learning.
The first focuses on easy to use spaces for course content production, the second, virtual classrooms for real-time interactive teaching.
Content Creation: turning your rooms into video production hubs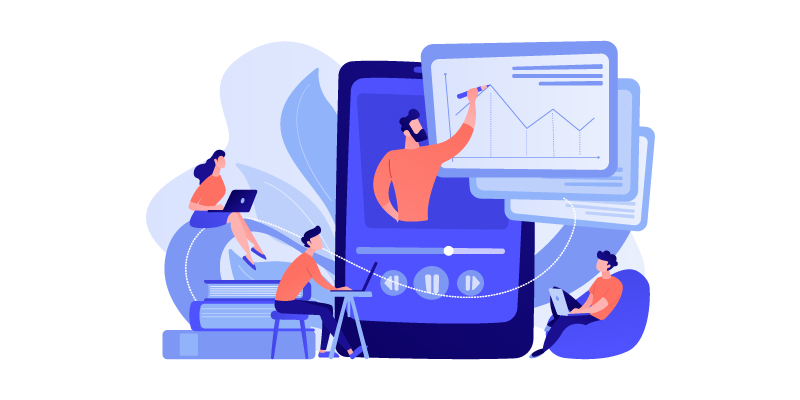 The use of streaming and recording technology in education is increasing rapidly.
To successfully deliver online courses, firstly, you need technology to record, stream, and publish your educational content.
Few lecturers are lucky enough to have the equipment and space at home to produce the kind of content that will engage learners and do justice to their teaching.
And, creating genuinely engaging online learning content takes more than just a laptop and a built-in webcam.
To solve this, forward-thinking institutions like the University of Central Lancashire, have been transforming small rooms into recording booths. These spaces offer simple systems that enable lecturers or students to walk in with a laptop and record content that can be saved locally, to USB or onto the VLE.
Set-up with presentation equipment, cameras, mics and simple control, they offer a place without distraction, that can be used by students to record content for assessment, or by staff to record teaching content.
How can you create this kind of facility for your institution?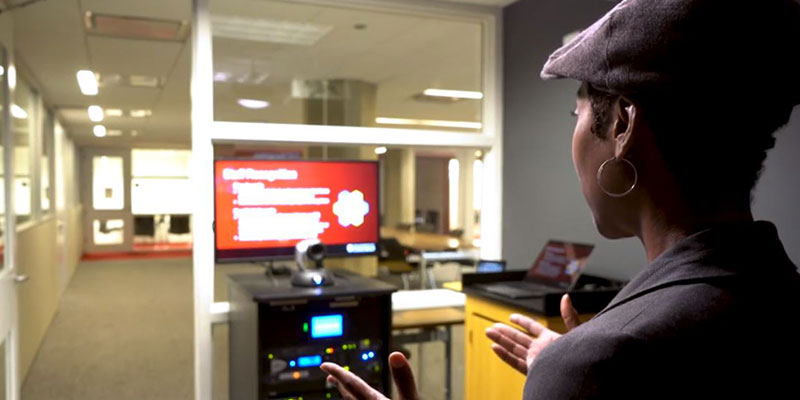 A simple answer is the Extron SMP Series – a robust, easy to use recording and streaming solution that fits well within a number of teaching spaces.
An excellent example of the SMP series in use can be found at The University of Chicago's One Button Studio, where lecturers pre-record teaching materials within a purpose-built space.
How does their solution work? Once the integration has been completed, the instructor plugs in a flash drive and the lights, camera, and microphone automatically turn on, ready for recording.
When paired with other audio visual solutions, this is where things really take off.
High-quality audio devices, acoustic panels, digital signal processors and digital whiteboards can be integrated - providing the complete suite of balanced sound, visuals and annotations for distance learners.

Want to learn more about how we can help you create new spaces to support distance learning approaches?
Virtual delivery: creating a virtual classroom that drives engagement
As virtual instructor led teaching (VILT) grows in significance, Universities are now looking into ways they can deliver the lecture theatre experience directly into the home.
Virtual classroom environments emulate the traditional classroom or learning experience with the added bonus of being carried out from anywhere.
They seek to go beyond one-way communication to generate real-time engagement and create a virtual experience experience that makes students feel like they are sitting in class.
With technologies such as the Barco weConnect, and Mashme.io, both lecturers and students can share, create, and interact with content like never before.
It doesn't stop there. Detailed analytics enable tracking and measurement participants.
Lecturers can monitor things that were previously hard to track. For example, intelligent software enables the lecturer to see how many times a participant interacts or raises their hand. From here, you can utilise the data to further amend your teaching styles.
The video above provides a great example of how the Barco weConnect has been utilised by the IESE Business School and how it created a rich student-teacher experience.
In a recent interview with BBC News, Kathryn Skelton, Chief Transformation Office of FutureLearn (The Open University) said:
Educators need to take a step back and ask not, 'How can I replicate what I do in the classroom', but 'How can I redesign this learning experience to take advantage of a whole wealth of technology that can deliver a full learning experience - not just the delivery of information?'
As both students and lecturers become more open to distance learning, universities can now focus on implementing robust solutions that deliver first class student experiences, not only in the classroom, but from anywhere.
Are you ready to explore new ways to enhance your online learning proposition? Why not speak to our experts by completing the form below.
Contact our experienced team to find out how we can help