Wireless conferencing – no fuss, no barriers, no cables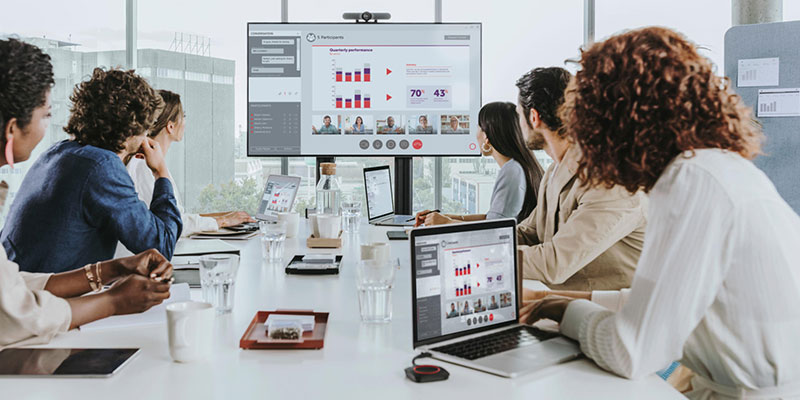 The Barco ClickShare Conference (CX range) provides users with a seamless and secure way to meet and collaborate, wirelessly.
The triple agnostic approach to the CX range gives you the power to connect without cables to in-room soundbars, microphones and cameras, using the device you like, and whichever UC platform you want.
Teams User? No problem. Zoom user? No problem. Undecided? You guessed it...no problem!
The CX range works with every UC platform out there.
Don't just take our word for it, Barco are currently offering everyone a free, 4 week trial of the range. Interested? Get it here.

Meeting space challenges
Have you ever walked into a meeting room and spent (what seems like a lifetime) waiting to get it started?
If so, you're not alone. Research suggests that, on average, meetings take around 12 minutes to get going1.
Furthermore, many users are so used to their own equipment, they struggle to adapt to using dedicated room systems - spending far too long trying to find out why the audio doesn't work, the screen resolution is wrong or whether to log in with their own credentials, or the rooms credentials!
There is a simple solution out there which takes away the hassle and gets you collaborating in as little a seven seconds, and that solution is BYOM (Bring Your Own Meeting).
What exactly is BYOM?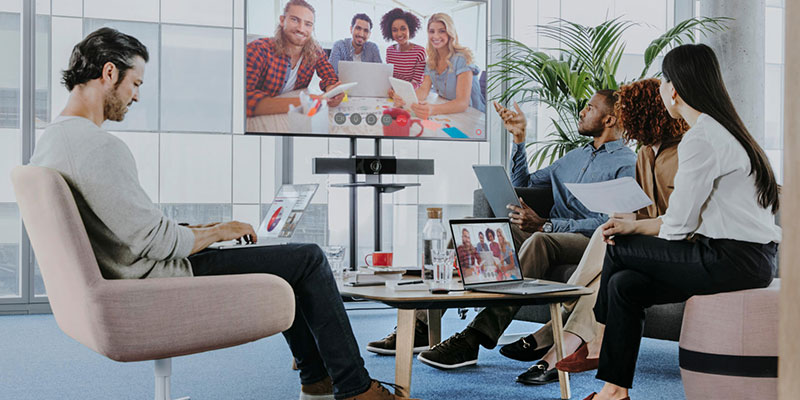 In a nutshell, BYOM is a natural extension of Bring Your Own Device (BYOD).
A major limitation with BYOD was having to use built in laptop camera and speakers - creating a wealth of issues from poor audio quality, through to not everyone being able to see the content.
Bring your own meeting successfully resolves this issue. You can now connect wirelessly to in-room peripherals whilst still having full control over the UC software, technology and location of your meetings.
With the sheer number of UC platforms out there, choice remains the central idea behind BYOM.
BYOM solutions also create a professional look and feel to your meetings. No more passing cables to colleagues, no more struggling to get your device connected. Just seamless content switching.
Multiple users can share content at the same time - making the collaboration process far easier than ever before.
Without BYOM, it would be a challenge to find a single solution that gives users the flexibility, choice and most importantly, the right tools to drive successful collaboration.
When would you choose a wireless BYOM solution?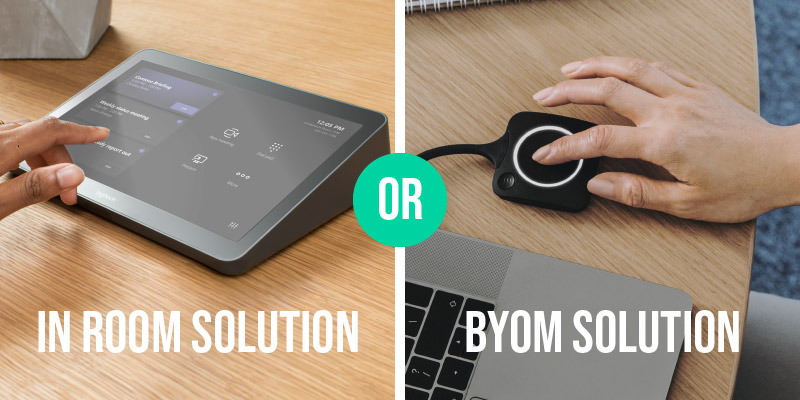 BYOM solutions are perfect when you don't want to be tied to a specific conferencing platform.
One of the reasons why users choose a BYOM solutions over a native codec is the flexibility to use the UC software of choice.
More often than not, dedicated room-based meeting solutions are 'locked in' to a certain software (Microsoft Teams Rooms, Zoom Rooms etc) until reconfigured, or new kit purchased.
BYOM solutions take away that limitation. Teams user? No problem, Zoom user? No problem! You can host meetings on any UC platform.
Another great feature of BYOM solutions is the ability to activate your meeting room camera, soundbar and display – all from your laptop!
Working from your own laptop, you have full access to your content and the comfort and productivity gains of working with a familiar device.
Sometimes, the reason for choosing a wireless BYOM solution comes down to something as simple as aesthetics. Some companies simply don't like the look of cables within a room. Choosing a wireless option helps keep things tidy.
Overall, BYOM meeting solutions are a great addition to any organisation looking to create a dynamic and productive workplace experience.
How to achieve a successful BYOM experience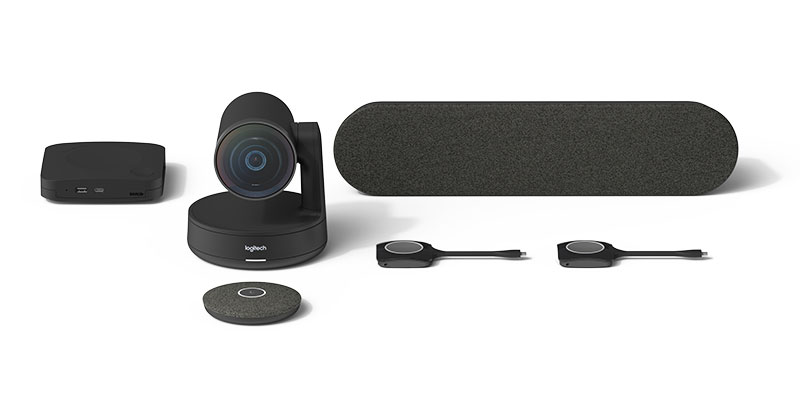 There are a number of wireless conferencing solutions on the market, but one that our customers really like is the Barco ClickShare Conference (CX Range).
The Barco CX range is designed to make collaboration simple.
No training required, just walk in, click a button and meet. Users of any skill set can share their content when they need to.
In a meeting, simply connect the USB ClickShare Conference button to your Laptop, click the button once, and you are live to the world in as little as 7 seconds2.
First-time installation isn't a problem either. Installing the CX button is a breeze.
For Windows users, the plug and play nature gets you started immediately. For Mac users, simply run the installation file that comes with the hardware.
Used in partnership with leading in-room hardware manufacturers, such as Logitech and Poly, the CX range can bring a flexible, dynamic meeting experience to any organisation.
Barco is confident that you'll love their product, and they're currently offering a 4 week free trial to anyone who wants to try it. Our advice would be to go for it, and if it's not for you, give it back.
Are you ready to give your users a choice? Get your free trial of the Barco ClickShare Conference.

Want to find out more about how the Barco ClickShare Conference can benefit your organisation? Speak to our team!
References
1Rethinking collaboration: Barco reveals true extent of time lost in meetings, and shows how businesses can reclaim this time to their advantage.
2Barco ClickShare Conference Overview.