Collaborative Lecture Theatre Installation is 2018 InAVation Awards Finalist
17 Dec
Collaborative lecture theatre redesign earns Pure AV a coveted place on award shortlist
We are delighted to once again be shortlisted as a finalist at the InAVation Awards, the highly respected annual award ceremony from InAVate magazine. Pure AV is one of 10 finalists in the Most Innovative Education Facility category.

The team's installation of Collaborative Lecture Theatres at the University of Leeds has been selected as one of the ten finalists, out of around 300 entries submitted from across Europe. The InAVation Awards will bring together AV manufacturers, installers, resellers and end-user representatives from across the world in Amsterdam on February 6.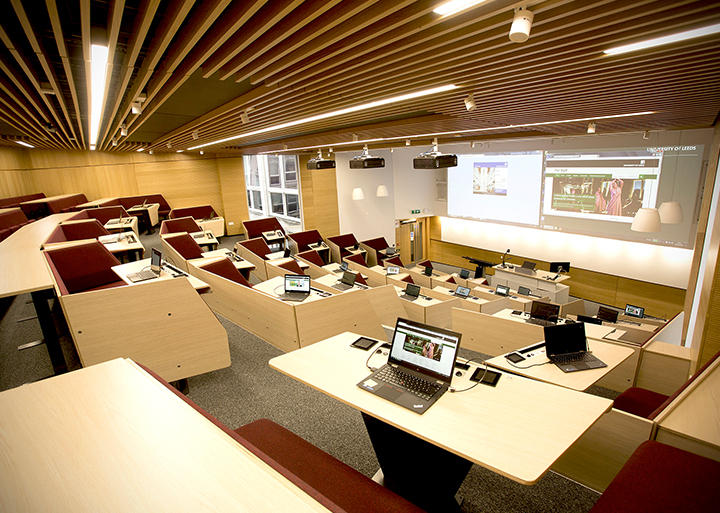 Pure AV's entry features work completed on new collaborative lecture theatres at the University of Leeds. Part of a £2.8m redevelopment of lecture theatre spaces at the University, the redesigned theatres replace traditional lecture seating with new style collaborative booths. Each booth is embedded with digital technology to facilitate improved group working and accommodate a 'flipped' learning approach to large group teaching.

The success of the transformation has been reflected in the enthusiastic adoption of the rooms by the academic users and in a dramatic improvement to student satisfaction ratings.
Andy Truswell, systems integration manager at Pure AV, said, "This was an exciting project to be a part of, it was a pleasure to work with the team at the University of Leeds, and we are delighted to have the project recognised by the InAVate judging panel.
The new spaces have captured the imagination of academic staff, now able to introduce new teaching methods into their lectures.
Dr Lee Edwards, associate professor, School of Media and Communication at the University of Leeds said, "The interactive technologies, intuitive control panels and touch screen make integrating technology into teaching a more interesting and rewarding experience for everyone…It means I can create a learning environment that is varied and engaging, using different tools to help students develop and reflect on knowledge in new ways".
The team will find out whether they have been successful at the InAVation awards dinner to be held in Amsterdam on February 6. This is not the first nomination for Pure AV which previously picked up the award for Most Innovative Education Project in 2014, and was shortlisted in 2017 for Most Innovative Education Project for work carried out on the campus transformation at Staffordshire University.