Pure AV system designer completes the AVIXA CTS triple
12 Nov
We are delighted to congratulate Pure AV system designer, Dan Saville on the achievement of AVIXA CTS-I certification.
Already a holder of CTS and CTS-D certification, Dan is one of only ten individuals in the UK and Ireland to hold dual CTS-D and CTS-I certification.
Driven by a desire for continuous professional development and the delivery of the best possible service for his clients, the decision to complete the CTS-I certification was an easy one as Dan explains:
"As a system designer, a thorough understanding of the end to end experience of project design and delivery helps to underpin the work that I do daily. For me, the certification process complements my practical experience and is a very tangible way to demonstrate my commitment to best practice both to the company and our customers".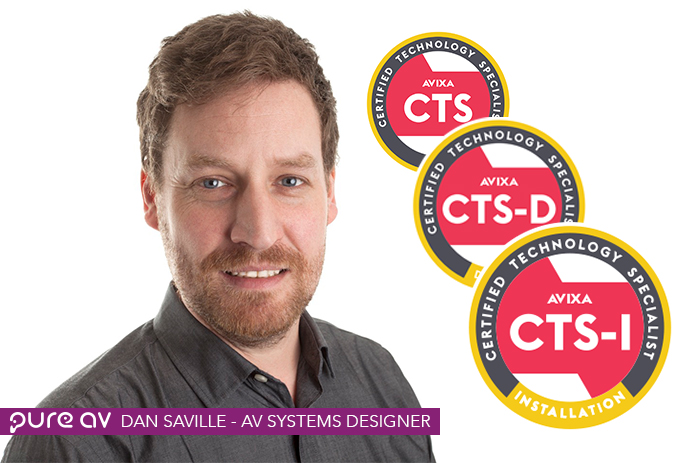 Andy Truswell, system integration manager at Pure AV, agrees.
"As an organisation, we know that Dan is an excellent audiovisual professional; it is demonstrated every day in the quality of his work and the feedback we receive from clients. To successfully attain the full set of AVIXA CTS certifications is a fantastic achievement and enables us to formally recognise that skill set against an internationally recognised benchmark".
Dan is not alone in his pursuit of AVIXA certification; out of a staff of 50, 11 have CTS certification with a further two CTS-D holders. A significant achievement particularly when you consider that there are only 13 CTS-D holders across the whole of the UK and Ireland.
It is an exciting time for Pure AV whichwas named Reseller/Integrator of the Year at the AV Awards this year and in December and will celebrate 15 years in audiovisual integration. Managing director, Peter Sutton said,
"We have grown significantly over the past 18 months and as we celebrate our 15th anniversary want to ensure that those who have helped to get us to where we are today, have the opportunity to grow and develop as the organisation expands. We see access to AVIXA CTS certifications as an important part of that professional development process".
The highly respected CTS certifications are ANSI accredited under the International Organisation of Standardization and require candidates to demonstrate advanced audiovisual knowledge and or skills through a closed book examination. Once attained, CTS holders at all levels of certification are required to participate in regular training and professional development activity to maintain their status. Certification demonstrates a commitment to professional growth in the audiovisual industry.
AVIXA is the Audiovisual and Integrated Experience Association, producer of InfoComm trade shows around the world, co-owner of Integrated Systems Europe, and the international trade association representing the audiovisual industry. Established in 1939, AVIXA has more than 5,400 members, from more than 80 countries.