Digital Classroom
The Digital Classroom from Pure AV offers an intuitive environment designed to support participation, engagement and active learning.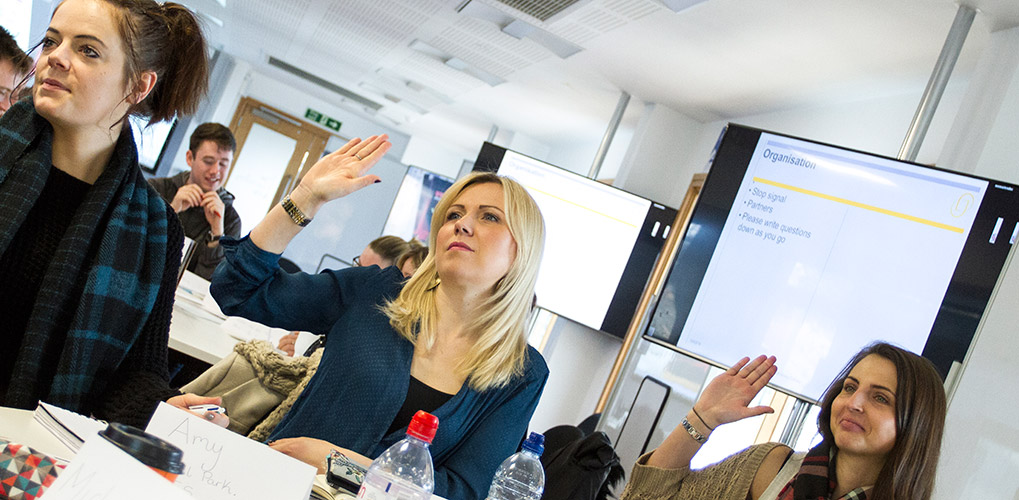 ENGAGING
Active learning environments open up a diverse range of undergraduate experiences and complement traditional lecture delivery with increased potential for team-based and peer-based learning.
INTUITIVE
The Digital Classroom is not a showcase of technical possibility but a design that takes the most intuitive collaboration technology to provide a teaching environment that benefits the widest possible academic user base.
Academics can feel comfortable using the equipment with a minimal amount of training.
SCALABLE
The avoidance of technology for technology's sake makes the Digital Classroom scalable and a valid option for both formal teaching environments and deployment in libraries and social learning spaces.
The potential to open up classrooms to self-study groups outside of traditional teaching hours also increases space utilisation and enhances the on-campus student experience.
The inclusion of a polling system allows instant question construction and response through students own devices, supporting the demonstration/measurement of Learning Gain, a key performance indicator under the forthcoming Teaching Excellence Framework (TEF).
In action
A typical Digital Classroom is designed to accommodate 36 people in groups of 6 but is adaptable so that groups of various sizes can be constructed. Groups are able to work independently at their table or collaboratively with the rest of the room.
Each table has its own TV screen and there is a further high definition display positioned at a focal point in the room for optional use by the tutor when addressing the whole group.
The system is designed to be wireless and uses the VIA Technology from Kramer Electronics to allow virtually any portable device to connect and share content to the TV screens.
Fully configured Digital Classrooms are now being integrated onto university Eduroam networks, providing students, staff and visitors with immediate access to their learning resources. At a recent meeting with JISC, The head of above net service deployment, Mark O'Leary and systems development specialist, Adam Bishop for JISC reviewed the Kramer Via product from the perspectives of security and bandwidth and categorised it as "low risk" and therefore able to be used without issue on the Eduroam network.
Please watch the video below from this year's BETT show as Chris Evans, Manager of e-Learning of Warwick Manufacturing Group, provides an in-depth analysis of the solutions we provided at The University of Warwick.
Experiencing The Digital Classroom - The Digital Classroom Roadshow
The Digital Classroom Roadshow is an interesting initiative led by independent consultant Duncan Peberdy of Droitwich.net alongside Jisc and a group of leading manufacturers. Visiting a number of locations in the UK, the Roadshow brings a fully configured digital classroom with a capacity for 36 students to each host institution for a 4 week period.
Whilst in place a series of workshops are held inviting those responsible for Learning and Teaching, Academic Development, the student experience, Estates and technology as well as architects, local businesses and other institutions to experience and assess a live Digital Classroom.
The workshops use real examples to explore how different furniture, room layout and technology choices can impact on the effectiveness of Active Learning environments. During the sessions, the use of the fully configured classroom enables you to obtain first hand experience of how content is managed and shared within the Digital Classroom and to see how the integration of individual devices or BYOD is facilitated. The subsequent discussion offers a great opportunity to debate and review the set up demonstrated as well as to explore its suitability for your own environment.
Pure AV provided installation support to the tour when it came to Lancaster University in March, and are offering all attendees of the Roadshow access to free consultation and special pricing support for the development of their own Digital Classrooms. A full list of Roadshow venues and additional information on the workshops available can be found here. http://www.digitalclassroomroadshow.co.uk/.
To talk to us about the development of a Digital Classroom for your setting contact our head office and ask to speak with Tony Crossley.
Digital Classroom Roadshow Sponsors