Back to campus - adapting your technology set for blended learning.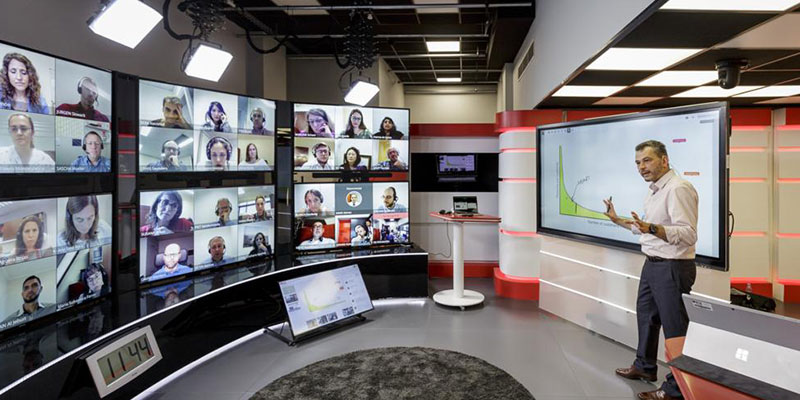 With a staggering 1.6 billion students, worldwide affected by the pandemic, the disruption to the education system is beyond anything we could have anticipated.
And, as we begin to understand that the elimination of COVID-19 is far from imminent, the emergency measures implemented by our institutions to enable continuity during lockdown, now need to evolve into something more long-term.
The shape of the 'something' - online, virtual, hybrid, on-campus learning - remains open to debate.
Across most practitioners and observers of higher education delivery post-pandemic, the expectation is that virtual learning - in some capacity - is here to stay.
In this post, faced with an ongoing need for digital delivery, our focus is on adapting the technology you already have in place to facilitate digital and virtual learning, whether part of a hybrid system or an exclusively online programme.
Simple changes offer significant results
The good news for many institutions is that you have the infrastructure in place to enable content delivery and creation for distributed or off-campus learning.
And with simple changes or additions can quickly and easily scale up those resources to cope with increased demand.
How our university partners are adapting their spaces
Technology is a key enabler of the transition to blended learning. Below we look at solutions including; the extension of AV over IP, live streaming, lecture capture and Microsoft Teams Rooms.
Using AV over IP to link rooms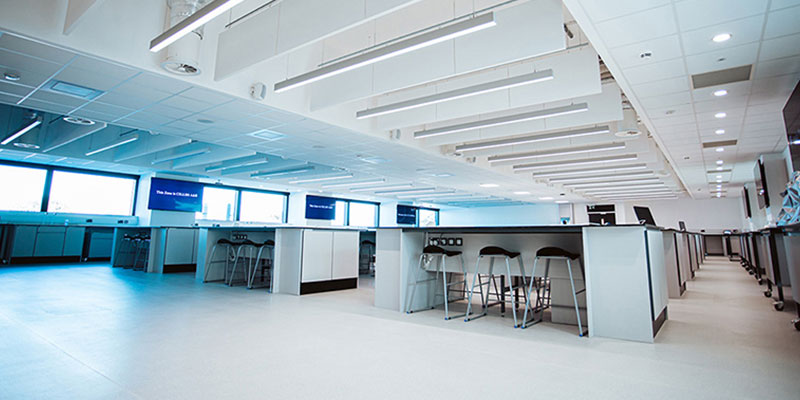 Creating flexible spaces able to scale and adapt to different class sizes was already on the list for many institutions. See the Keele and University of Bedfordshire case studies, for example.
Now, as we face reduced occupancy due to social distancing, the ability to distribute content, video and audio between multiple rooms and locations in real-time offers a way to enable the on-campus teaching of smaller groups spread across different spaces.
Clearly, with space at universities already under pressure, merely spreading out classes across multiple rooms is not the full solution. But it does offer a way to enable safe on-campus access where the use of specialist on-site equipment or lab working is critical.
Add in live streaming to remote students and the rotation of groups between remote and on-campus sessions and you open up that access to a higher number of students.
Being networked-based, AV over IP is also a solution that can quickly expand and contract as rules around social distancing evolve.
Extending lecture capture and live streaming to new areas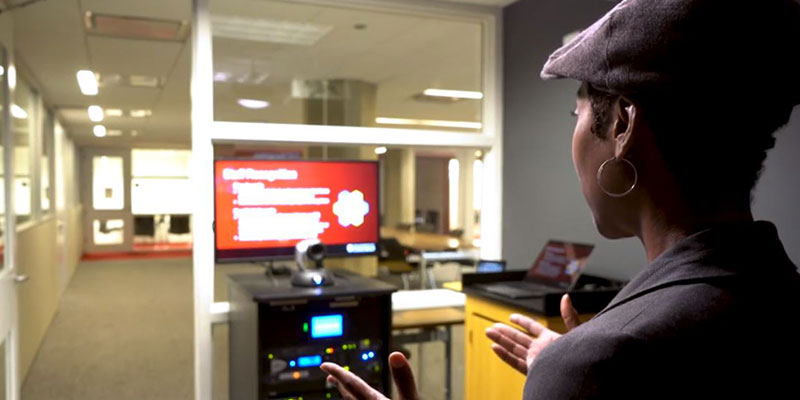 Enabling more teaching spaces for lecture capture and live streaming is one way that technology can help the transition from online to blended learning.
Outside of lecture theatres many classrooms and group working spaces are already equipped with presentation and voice reinforcement. Adapting these spaces with lecture capture or live streaming capabilities is a quick and relatively low-cost process.
Using Extron's streaming solutions with additional cameras and enhanced audio, for example, we can combine different audio and video sources and automate the process of streaming and recording - creating more spaces where local and remote teaching can be combined.
Whether dealing with reduced occupancy, preventative self-isolation or lockdown, you have flexible learning spaces that support continuity of learning, when full campus attendance is not possible.
Adapting lecture theatres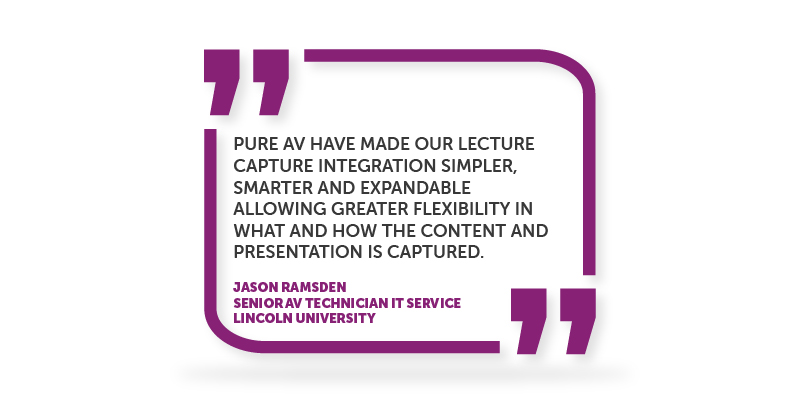 Unable to safely bring large groups together in a lecture theatre environment, many institutions are taking large group lectures online as part of a blended learning approach.
This does not mean empty lecture theatres. In some instances, universities are adapting spaces for socially distanced small group working. In others, enhancing and simplifying lecture capture and live streaming provides academics with a venue to record content, or host smaller groups of students on site, as the rest of the class follow remotely or via recording.
Ensuring equality of experience is a consideration with the latter scenario. Solutions include rotating groups of students during the term, to ensure they have the same access to virtual and face-to-face delivery.
At the University of Lincoln, we have recently improved the integration between the in-room presentation, audio and video hardware and the Panotpto lecture capture system. The user interface is now integrated with the room control, allowing a simple 'one press' start, simplifying use, and enhancing the audio and visual quality of the content captured.
Audio management is often the most challenging aspect when adapting lecture theatres. Our team of technical experts can help.
Get in touch if you have a project you would like to discuss.
Enabling meeting spaces for Microsoft Teams and BYOM web conferencing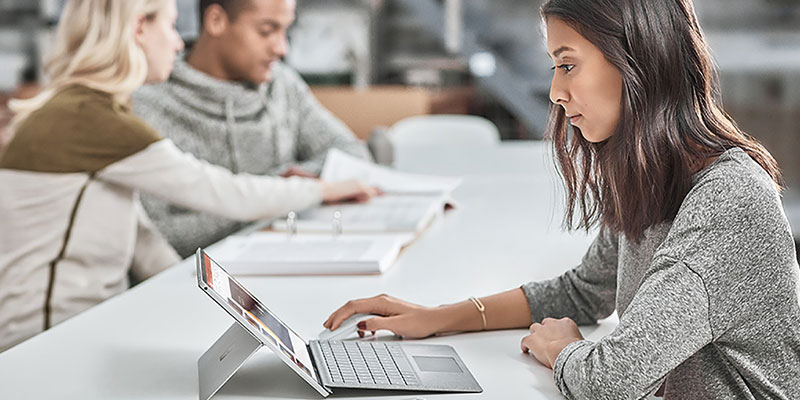 Platforms like Microsoft Teams are playing an increasing role in communication and collaboration between university staff, academics and students.
As we move back onto campus, there is significant demand to bring that personal-device-driven experience into the on-site meeting and tutorial room environment.
Through the use of Microsoft Teams Rooms or Bring Your Own Meeting solutions, you can equip meeting and tutorial spaces with a rich, collaborative Teams experience, that's simple to use, deploy and manage.
From Microsoft Teams Rooms with certified Microsoft peripherals to platform-agnostic solutions, you can adapt your meeting rooms and tutorial spaces to support video-enabled meeting, presentation, streaming and collaboration.
By enabling users to connect with the room's fixed hardware, you offer the familiarity and comfort of personal equipment and preferred platform use, combined with improved sound and visuals.
Talk to us about Microsoft Teams Rooms and BYOM deployment.
Value beyond Covid-19
Many of the solutions we've talked about here are part of an ongoing conversation, already underway before the pandemic, about digital transformation.
The technology and changes to learning delivery they support, bring a level of flexibility and richness in content delivery that will add value to the student experience beyond the time of COVID-19.
Talk with your account manager about simple, cost-effective ways to adapt your existing spaces in response to coronavirus and the broader digital transformation of the learning experience.

Next Article – Creating new spaces for distance learning
Contact our experts to find out how we can help