UK Government announces funding packages to support businesses affected by Covid-19
Did you know: Your business could be entitled to between £1000 and £3000 to implement or upgrade video conferencing technologies.
To help businesses recover from the Covid-19 pandemic, the UK Government has launched a new £20m fund to stimulate productivity in the workplace.
Delivered via local growth hubs, businesses across England can apply for grants between £1000-£3000 (and up to £5000 on a case-by-case basis) to put towards equipment including video conferencing hardware and collaboration tools.
As reliance on these tools increases, now is the perfect time to upgrade ageing equipment or implement new solutions to help minimise face-to-face contact and continue to reach key customers.
This is a 100% Government funded initiative - so your new video conferencing system, meeting room or boardroom solution could be completely free!
View the official Gov documentation about the scheme.
**Find your local growth hub and apply for funding at the LEP Growth Hub website.**
** MISSED OUT ON A GOVERNMENT GRANT? **
Due to high demand, many of the regional funding rounds have now closed.
But, don't worry, there are other ways to equip your meeting spaces with the tools you need to make a productive recovery from the impact of COVID-19.
One option is AV financing. PureTech AV payment plans offer acess to low-cost, hassle-free financing for your AV solutions - getting you the communication and collaboration tools you need, when you need them, in an affordable way. Click here to find out more.
The benefits of video conferencing (VC) and bring your own meeting (BYOM) solutions
Recent research completed by our manufacturing partner Poly reveals that around 67% of workers have roles that require some form of collaboration.
Furthermore, around 70% of employees are now working from home and the majority expect to continue working from home once the pandemic is over.
This creates a challenge for business recovery.
How do we create an environment that supports those that need to collaborate when their co-collaborators are spread across different locations and work environments?
Enter video conferencing - during the lockdown, video has proven itself a powerful tool for communication. It adds another layer of context into conversations, enhances the sense of connection, and combined with the right tools opens the way to productive collaborative activity.
94% of businesses that use video conferencing say it increases productivity (Wainhouse Research).
When collaborating, clear communication coupled with a straightforward process for the sharing of information and ideas is critical. As we move back into our offices, simple modifications to our meeting spaces will enable us to get the most from the video collaboration experience, and help to stimulate productivity.
In-office or remote, when participants can be clearly seen and heard and are able to contribute and share content naturally, productivity increases and the potential for success improves.
Solutions from technology providers such as Poly, Logitech and Barco, equip staff and video conferencing rooms with the razor-sharp image and crystal-clear sound quality required for productive activity.
Bring your own meeting (BYOM)
For those that want to manage the meeting from their own laptop or device, Barco's ClickShare Conference (CX) range is a fantastic addition to your video-enabled meeting space.
The solution works across all popular devices (laptop, mobile and tablet) and with the click of a single button, activates the in-room peripherals, meaning you no longer have to use low-quality laptop cameras for either single user, or group meetings.
BYOM provides an agnostic approach to meetings. This means that you can use any device you like with your preferred conference tool and connect wirelessly to room cameras, speakerphones, and soundbars.
BYOM provides a practical solution to typical issues associated with conferencing such as:
| Issue | Solution |
| --- | --- |
| Lock-in to a specific vendor or solution | With BYOM, lock-in is avoided giving organisations more flexibility |
| Proprietary meeting room solutions | Bespoke solutions are no longer needed with a BYOM approach |
| People use multiple conferencing solutions | This is no longer an issue as any conferencing solution can be used |
| Difficulty setting up equipment | BYOM solutions are easy to use and fast to setup (e.g. it should take less than 7 seconds rather than 7 minutes) |
| Unused meeting room equipment | BYOM solutions make it far easier to connect to meeting room equipment and make it far more likely that it will be used |
| Poor experience associated with use of in-build laptop camera and audio | This problem is avoided as BYOM solutions leverage the higher quality equipment in the room |
With your employees spread over different workspaces and a need to follow social distancing regulations, we can implement solutions to support productive working practice.
Further resources: Poly Work Together Infographic and Barco BYOM whitepaper.
Our strong partnerships with technology partners means we have you covered!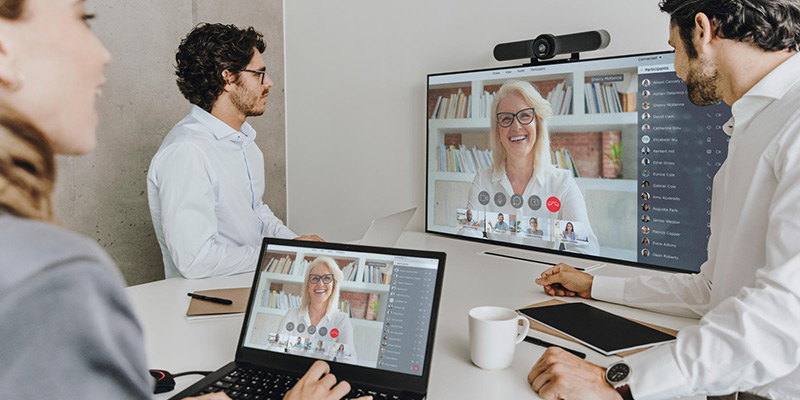 Our team of experts work closely with leading manufacturers including Logitech, Poly and Crestron to create meeting room solutions that deliver results.
Whether you collaborate through Microsoft Teams, Zoom, BlueJeans, Cisco WebEx or any other meeting platform, we will find the right solution to suit your requirements.
For further information about which solutions could benefit your organisation, please contact our team of experts and we will be in touch to discuss our solutions further.
Why choose Pure AV as your video conferencing integrator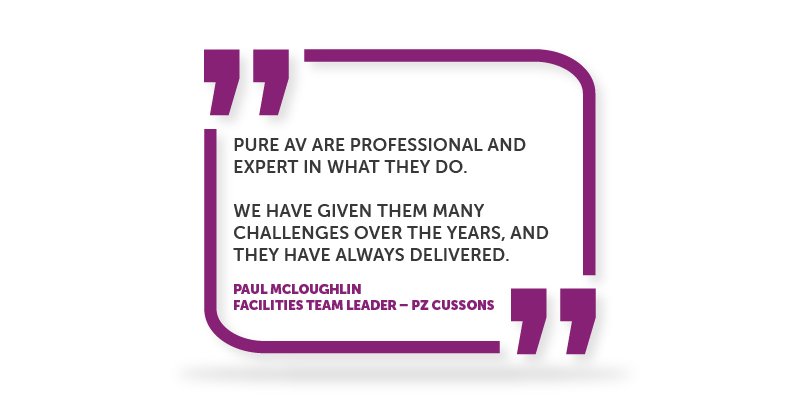 As an award winning audio visual integrator, we specialise in creating agile workspaces, collaboration and communication solutions for businesses of all sizes.
Our dedicated team of system designers, engineers and sales specialists work with top-tier manufacturers to ensure you maximise efficiency, reliability, and engagement through the integration of future-proof conferencing solutions.
Ready to find out more? Contact our experienced team to find out how we can help
Subscribe For More
Find out more about our solutions