Video-enabling offices for successful hybrid working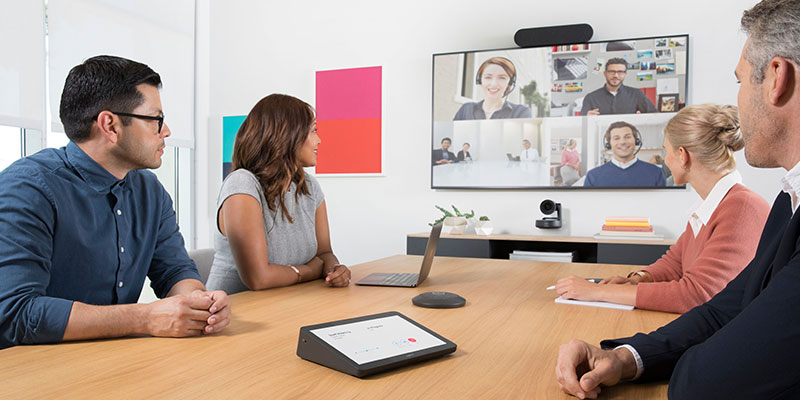 Post-pandemic, few of us expect to spend 100% of our time in the office, instead opting for more flexible approaches and the freedom to split the working week between remote and office working. New research suggests that as many as 46% of us want to spend at least one day a week working from home in the future.
The tools we work with have also changed. During lockdown, usage of desktop conferencing platforms like, Teams and Zoom have sky-rocketed. The efficiency and flexibility offered by these solutions make them a powerful addition to the employee tool kit and a critical consideration as we move back to the office.
The rise in hybrid working means that even as we begin to return to face-to-face meetings, we can also expect an increase in sessions that involve at least one remote participant. That might be you hosting from a meeting room that includes remote attendees or attending as a remote participant yourself. It makes video-enabling our workspaces a priority.
But what does "video-enabling" mean? Essentially it's about creating an environment where everyone, whether remote or in the room, can be clearly seen and heard and can fully participate in the discussion taking place.
It means you need to consider both the experience of those in the meeting room and how the room will look and sound to those joining from the remote location. Ironically, the most critical factor to a successful video call is sound. And sound quality is influenced both by technology and the environment; hard surfaces, large expanses of glass, and high ceilings can all impact how well people can be heard and the best technology for the job.
The best place to start when adapting your meeting rooms is not with technology but by thinking about running your meeting. Would you prefer to run meetings from your laptop, or do you want to walk in and use a device that's already there? Do you have a preferred collaboration platform, or do you want to keep it flexible? Do you want to use cables to connect with the system?
With those core decisions made, the meeting room's size, layout, and fabric should drive the technology choices. As a specialist integrator, we will guide you through the options and help determine the best solution for you.
It does not mean investing in costly, complicated systems. The most effective solutions are often those that are the most simple. Simple can still be flexible. In fact, in the hybrid workplace, it is critical.
You can read more on this topic in the Pure AV ebook, "the how-to of hybrid working", or contact a member of the team on 01772 298771 for advice on your meeting room projects.
Did you know
We offer a number of low cost, hassle free
audio visual finance packages
to help people implement or upgrade technology for hybrid working.
Adapting quickly to the changing demands of business operation has never been more critical. As Covid-19 gradually starts to retreat, technology is playing a vital role in helping businesses to move forward.
Don't wait to make those investments – equip your teams with the tools they need to accelerate business recovery.
To find out more about how we can help, contact our team by completing the form below or by visiting our
audio visual finance
page.
Contact our experienced team to find out how we can help
Subscribe For More