Working together everywhere with video collaboration technologies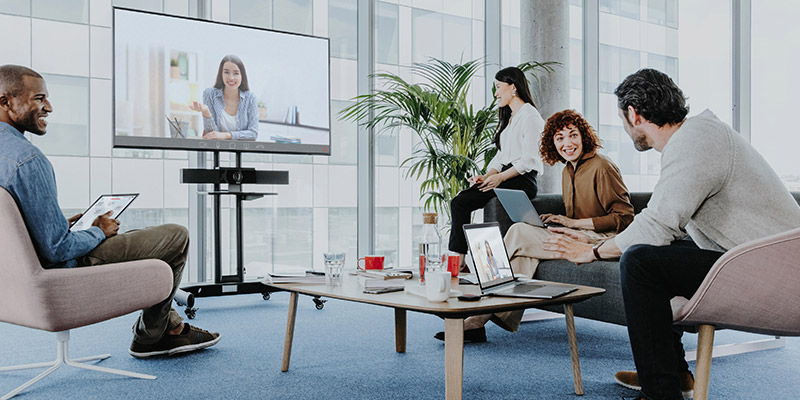 As we progress into the next normal, new ways of working are emerging. By making smart choices now we can adapt, recover quickly and accelerate productivity.
One of the first decisions you face is whether to bring your workforce back into the office. In 2021 that's less about whether we can meet in person and more about whether we should.
It's unlikely that we'll go right back to the way things were. One early study found that around 70 per cent of businesses expect their employees will or are likely to continue working from home at least some of the time after the lockdown.
The reality for most is likely to be a form of 'hybrid working' - a mix of both home and office work.
That will require a way to stimulate productivity while teams are spread across different locations and work environments.
Step forward, video collaboration. During the successive lockdowns, video calling has proven itself a powerful tool for communication. Only 4 per cent of meetings used video before the pandemic, now it's more than 60 per cent.
Video technology provides employees with one of their most empowering tools: the freedom to choose. It enables individuals to work wherever they will get the best results.
For the uninitiated, this might sound like an expensive, complex option. But enabling your office to take advantage of 'anywhere working' is more straightforward and less costly than you might think.
The key is a simple, consistent experience. Zoom, Skype or Teams, accessed through a standard laptop, were all we needed during the lockdown.
This is still true, and now you can enhance this experience for your employees and boost productivity by creating spaces specifically designed for video meetings.
We're seeing the rise of Bring Your Own Meeting solutions. These allow you to enter a meeting space and run a video meeting from your own laptop, with the added benefit of a seamless connection to the screens, speakers and microphones in the room.
The way back to productivity will vary significantly from company to company and will not be a static solution. The more flexibility we can build into our meeting spaces, the better positioned we will be to drive long-term success; whatever the world throws our way.
Did you know
We offer a number of low cost, hassle free
audio visual finance packages
to help people implement or upgrade technology for hybrid working.
Adapting quickly to the changing demands of business operation has never been more critical. As Covid-19 continues to restrict the way we move and interact, technology is playing a vital role in helping businesses to push ahead.
Don't wait to make those investments – equip your teams with the tools they need to keep your business activities moving.
To find out more about how we can help, contact our team by completing the form below or by visiting our
audio visual finance
page.
Contact our experienced team to find out how we can help
Subscribe For More