The Great British Expos returned to the Etihad Stadium, Manchester on the 22nd November to host the respected North West Business Expo.
The Pure AV team was delighted to be among the 100+ exhibitors showcasing products, services and solutions designed to meet the needs of the modern day business organisation.

If you were one of the visitors to the Expo, we hope that you enjoyed the day. Now, read on to take the next step towards your chance to win a Samsung Flip for your offices.
If we missed you, you can find out more about the Samsung Flip and the services we offer below.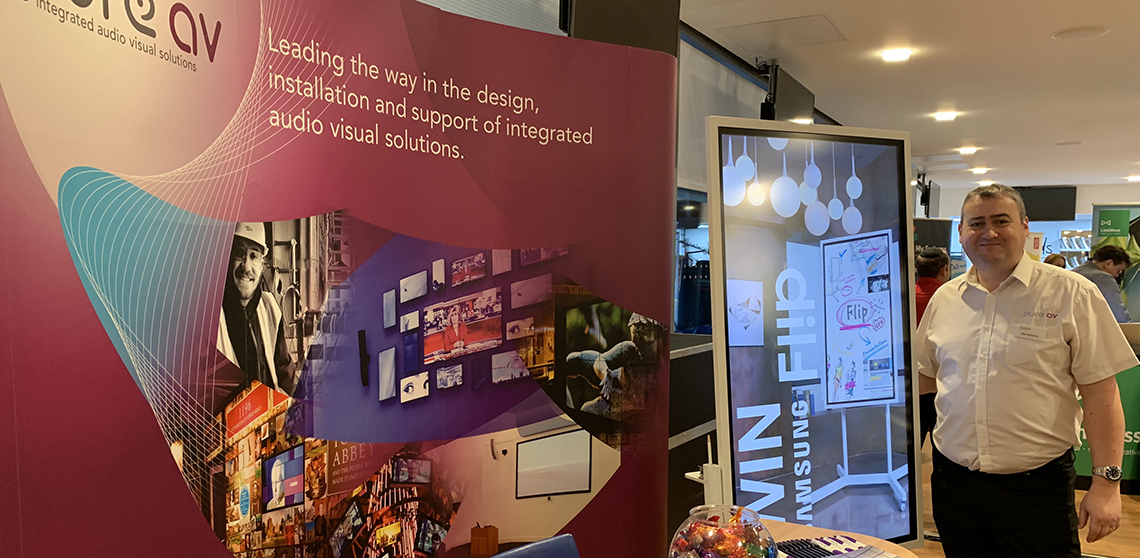 You've seen it, why not try it?
At the North West Expo you had a brief introduction to the Samsung Flip. Now you have the chance to have an in-depth demonstration on-site and enter the draw for a chance to win your very own Flip.
1. Visit our stand at The Great British Expo. 2. Book your demonstration* 3. Wait for the result of the Pre-Christmas draw!

* The prize draw is open to attendees of the Merseyside Business Expo and the Great British Expo (Manchester) who register for and complete a demonstration before the 14th December. The draw will be made on the 21st December and the winner will be notified by a representative from Pure AV. Full T&Cs available on request.
Book your demo and your chance to win a Samsung Flip
Please get in touch via the form below and we will arrange a free demonstration at the location of your choice.
The Samsung Flip

The Flip is a digital flipchart that brings traditional note making into the digital age and combines it with easy content sharing and high quality image performance.


Designed to replace the flipchart in your meeting rooms, the Samsung Flip helps to simplify the process of presentation, note making and content sharing.

Draw, write and erase with a natural pen-to-paper feel
Introduce images, charts or other essential files directly from your personal devices
Maximise the productivity of your meetings.
With mobile stand and wall-mounting options and free flowing movement between portrait and landscape orientation, the Samsung Flip has the potential to turn virtually any office location into a hub for idea sharing and collaboration.